Black churches in Orlando use toolkit to teach African American history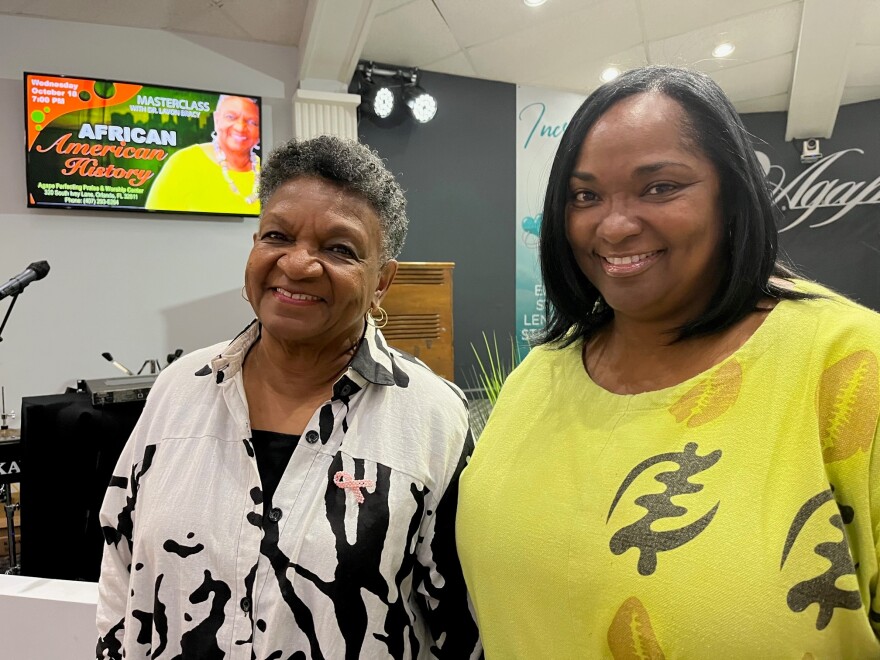 With restrictions in Florida on how Black history can be taught, churches are stepping in with their own lessons. They're using a special toolkit to teach congregants.

Black churches answer the call to teach African American history
It's 7 o'clock on a Wednesday night and Pastor Sharon Riley of Agape Perfecting Praise & Worship Center in Orlando would usually be preparing to lead Bible study.
Today, she's getting her church ready for their first ever African American history masterclass.
There are about 100 parishioners packed into the pews, including a group of middle school boys. Riley says these classes are in direct response to Florida's current political climate where restrictions have been placed on teaching history.
"Because we have families who have students who are registered in our public school system, we know that there are certain pieces of information relevant to our history that are not going to be taught," said Pastor Riley.

Florida has changed how it teaches history
AP African American history has been banned in the state. And teachers are no longer allowed to talk about anything that causes discomfort or guilt for a child.
In July, Florida approved new African American standards that teach kids, "slaves developed skills which, in some instances, could be applied for their personal benefit."
Tonight's class is taught by LaVon Bracy. She's with Faith in Florida, the group that created this history toolkit for churches.
What's in the toolkit churches are using?
This toolkit is not a curriculum but a guide with recommended books, documentaries to watch and articles to read. It covers the history of the Transatlantic slave trade through the Civil Rights Movement to the killing of George Floyd.
Bracy said Black churches need to make sure children get the full picture.
"So we want the true history of America to be known. And so that can only be done if you tell the truth about what has happened. And learn from that. So that will not be repeated again," said Bracy.
The course culminates with a trip to Alabama in the spring. They'll visit some of the most important sites of the Civil Rights Movement.
Experts say the toolkit comes at a crucial time
Eric Smaw is the Chair of Philosophy at Rollins College near Orlando. He thinks these toolkits are a great idea.
"And so now it's up to us to make sure that we stay engaged, we stay knowledgeable, we stay committed to the fight for civil liberties, because those who want to constrain your civil liberties, will stay committed on the opposite side," said Smaw.
Back at Agape, Bracy wraps up her lesson by giving out tiny vials filled with soil she collected at various sites across Africa.
"I want the kids to take this soil with them. And I want every time that you have a very difficult thing to take this soil out and say, 'My ancestors made it, they walked on this soil, and I can make it too'," said Bracy.

Some 300 churches are using the toolkit
For parishioner Angela Borders tonight's lesson was an inspiration.
"Education is your power source to do greater things," said Borders.
Black churches have long played a large role in fighting for civil rights. Pastor Riley said she's now devoting one Wednesday every month to teaching Black history.
"Well, the church is gonna always be an educational institution period. We teach people how to live their lives, how to raise their families, how to plan for their future, we teach, that's what we do," said Pastor Riley.
Faith in Florida says more than 300 churches across Florida and the South have signed up to teach their toolkit.
---
Watch the African American history masterclass at Agape below: