PolitiFact FL: DeSantis' critique of Trump election spending omits not all funds went for ballots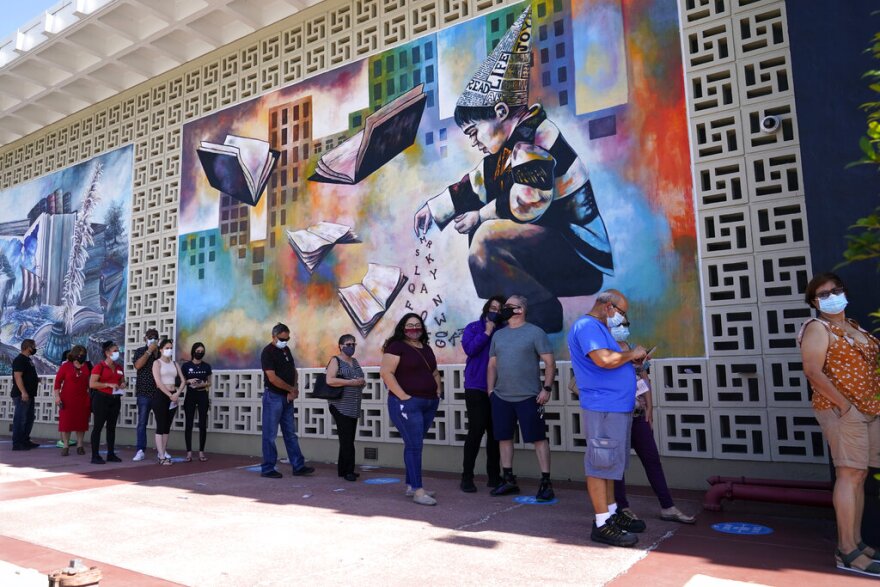 WLRN has partnered with PolitiFact to fact-check Florida politicians. The Pulitzer Prize-winning team seeks to present the true facts, unaffected by agenda or biases.
In a rare moment of bipartisan agreement, lawmakers united early in the COVID-19 pandemic to help states prepare for a national election.
The $2.2 trillion Coronavirus Aid, Relief, and Economic Security Act — aka the CARES Act — included direct payments to most Americans, unemployment aid, business loans and $400 million for elections — including money for the expected increase in people voting by mail.
As he seeks the Republican presidential nomination, Florida Gov. Ron DeSantis now criticizes former President Donald Trump for approving the election section of the law.
"All these mail ballots — I think that is totally wrong to just send everyone a ballot," DeSantis said during an Oct. 24 New Hampshire town hall sponsored by his political action committee, Never Back Down. "But the Republicans and Trump funded $400 million in March of 2020 for mail ballots. They funded it out of Washington — I would never have agreed to fund that."
DeSantis' office confirmed he was referring to the CARES Act.
That was not a bill to exclusively fund the increase in voting by mail. It allowed election officials to spend money in ways to make in-person voting safer, such as larger voting sites to allow for social distancing and protective and cleaning supplies for workers at precincts.
Although DeSantis objects to it now, Florida, under his leadership, sought its share of the money.
DeSantis and Trump, who are former allies, have intensified attacks on each other as they compete for the nomination. DeSantis has repeatedly attacked Trump over the CARES Act. Trump has falsely accused DeSantisof mandating COVID-19 vaccines.
Election officials could use CARES Act for mail or in person voting expenses
The CARES Act passed the Senate 96-0 on March 25, 2020, and two days later the House passed it in a voice vote.
"I want to thank Republicans and Democrats for coming together, setting aside their differences, and putting America first," Trump said when he signed the legislation.
The law included $400 million in election security grants. States had to put in a 20% match. Nationwide, about 84% of the money was spent, the U.S. Election Assistance Commissionfound.
Election officials could use the money on supplies and staff for mail or in-person voting, including temporary staff to process the increased demand for mail ballots, mail ballot drop boxes, cleaning supplies, protective masks for staff and poll workers, mailings to voters and leasing of new polling spaces. More than 70% of states told the Election Assistance Commission they planned to use funds to help cover higher costs of voting by mail.
Florida sought $20 million in CARES Act election funding
DeSantis was not always a critic of the CARES Act.
In April 2020, DeSantis thanked Trump for Florida's $4.1 billion share. By that point, Florida hadn't sought the election dollars.
Florida's association of election supervisors, a bipartisan group, wrote a letter to DeSantis in May 2020 urging him to accept the election money.
Florida Secretary of State Laurel Lee, a DeSantis appointee, wrote a May 15, 2020, letter to the U.S. Election Assistance Commission formally requesting the election money. "We are requesting the full amount of the award, $20,253,853, at this time," Lee wrote, saying that Florida would use the money to prepare for and respond to COVID-19 during the election year.
That means that DeSantis' administration sought a portion of the same pot of money that he now criticizes Trump for signing into law.
Florida told the Election Assistance Commission that the money went toward staff, voting by mail, maintenance of voter registration lists, polling sites equipment, cleaning and protective equipment at polling sites, leasing additional space, and public outreach to voters.
In Miami-Dade County, the jurisdiction with the highest numbers of voters, the elections office spent the $2.2 million on voting-by-mail costs, including additional ballots and drop boxes, personal protective equipment including masks and hand sanitizer, and training for staff and poll workers.
Broward County, which received about $1.8 million, paid poll workers hazard pay, bought them gloves and masks and paid for cleaning staff to repeatedly wipe down voting stations. Money also went toward disposable pens for voters.
"If you can imagine across hundreds of precincts, we had a lot of money spent to make sure in-person voting was safe," said Broward Supervisor of Elections Joe Scott, who was elected in November 2020.
New Hampshire spent money on increased mail voting
Some states that largely voted in person before the pandemic, such as New Hampshire, faced the challenge of paying for an increase in voting by mail.
Before the pandemic, New Hampshire allowed only some voters to cast absentee ballots, for example, if they had a disability or illness. But in 2020, state officials said any voter could cast an absentee ballot.
Rebecca Dickie, town clerk in Farmington, New Hampshire, told PolitiFact that in a typical election, about 100 voters cast an absentee ballot. That rose to about 900 in November 2020.
The secretary of state's office told us that New Hampshire used the majority of its $3.2 million in grant money to reimburse cities and towns based on a fixed rate for each absentee ballot exceeding those cast in 2016. Smaller amounts went toward other expenses, such as PPE and hardware and software for recounts.
Our ruling
DeSantis said "the Republicans and Trump funded $400 million in March of 2020 for mail ballots." DeSantis is partially correct here — the CARES Act Congress included $400 million for elections and some of it went toward expanding voting by mail. But election officials also used the money to provide safe in-person voting, including paying for protective gear, precinct cleaning supplies and spaces that allowed for social distancing.
The law was supported by Republicans and Democrats alike, as evident by the unanimous vote in the Senate. The statement is partially accurate but leaves out important details.
We rate this statement Half True.
Our Sources

U.S. Election Assistance Commission,CARES state reports, Aug. 7, 2023
U.S. Election Assistance Commission, 2022 grant expenditure report, June 30, 2023
U.S. Election Assistance Commission, 2020 grant expenditure report, July 2021
U.S. Election Assistance Commission, Election Assistance Commission Plans for Use of CARES Act Report to the Pandemic Response Accountability Committee, 2020
New Hampshire Department of State, Final Report of the Select Committee on 2020 Emergency Election Support, June 2020
Gov. Ron DeSantis, Press release about CARES Act, April 17, 2020
Census.gov,What Methods Did People Use to Vote in the 2020 Election? Jan. 4, 2021
WLRN,Number of Vote By Mail Ballots In Miami-Dade Is 'Historic,' Says Election Supervisor, July 21, 2020
Fox News, Ron DeSantis: If We Are Fighting About What Happened in 2020 Republicans are Going to Lose, Aug. 16, 2023
Sun Sentinel, Partisanship mostly put aside as House OKs measure in voice, (Accessed in Nexis) March 28, 2020
Tallahassee Democrat, Enough with the handwringing, Dems tell DeSantis, May 15, 2020 (Accessed in Nexis)
Orlando Sentinel, Protecting polling places, Masks will be encouraged but not required to vote, (accessed in Nexis) Aug. 9, 2020
Fox News, Ron DeSantis: If We Are Fighting About What Happened in 2020 Republicans are Going to Lose, Aug. 16, 2023
Tampa Bay Times, Florida's primary election: Seven things to watch on Tuesday; Upset specials, (accessed in Nexis) Aug. 10, 2020
Tallahassee Democrat, Virus election money delayed, (accessed in Nexis) Aug. 12, 2020
Fox News, Radio interview with Gov. Ron DeSantis, Aug. 16, 2023
Email interview, Anna Sventek, spokesperson for the New Hampshire Secretary of State, Oct. 26, 2023
Email interview, Jeremy Redfern, Gov. Ron DeSantis, Oct. 27, 2023
Email interview, Steven Cheung, Donald Trump campaign spokesperson, Oct. 26, 2023
Email interview, Roberto A. Rodríguez, deputy supervisor of elections Miami-Dade County Elections Department, Oct. 27, 2023
Telephone interview, Joe Scott, Broward Supervisor of Elections, Oct. 30, 2023
Email and telephone interview, Rebecca Dickie, town clerk in Farmington, New Hampshire, Oct. 27, 2023
Email interview, Sylvia Albert, director of voting and elections at Common Cause, Oct. 25, 2023
Email interview, Matthew Weil, executive director of the democracy program at the Bipartisan Policy Center, Oct. 26, 2023