New Orlando Fringe ArtSpace theater thinks outside the 'black box'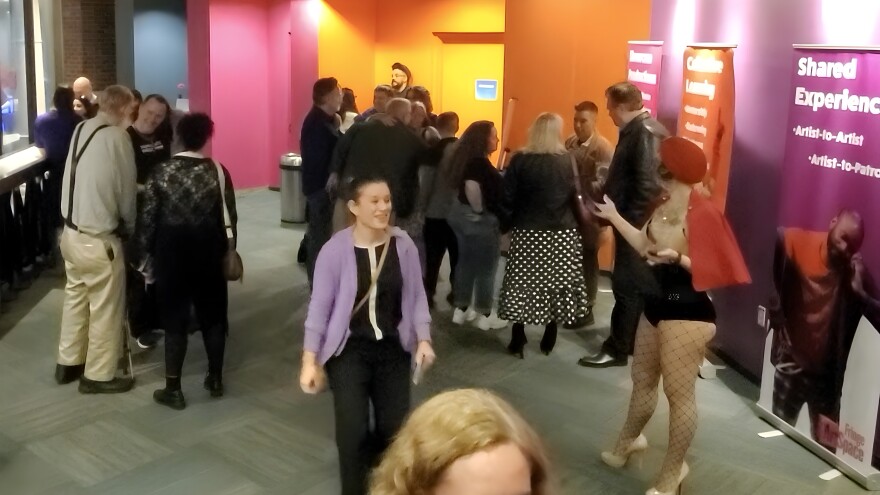 The Orlando Fringe Festival is the longest consecutive international theater and performing arts festival in the world. It takes over Loch Haven Park each May with two weeks of performances of all kinds.
Now the Fringe is branching out into downtown Orlando with a new arts-incubator space that offers workshops, classes and stage access to up-and-coming Central Florida artists. And its first show opened Thursday, Jan. 12 – the Fringe Winter Mini-Fest.
Fringe Executive Director Alauna Friskics talks with WMFE's Nicole Darden Creston about what makes the mini-fest different and the uniqueness of the new space.
Alauna Friskics:
So we acquired this space back in June of last year. And we've really spent that time focusing on…well, we've done a little bit of cosmetic upgrades, but we've really focused the time on what is going to be in the space. How are we going to use this, and really help focus on artists? And what we've come up with is something that I am really, really excited about. We've held listening sessions through the summer and fall, and really talked to artists, talked to the community, really to see what the needs are in the arts and cultural community. And we have a whole lot of different types of offerings with the main core being to showcase artists, to help give them a platform to grow. So looking at emerging and early-career arts organizations, how we can help foster and mentor, offer classes and workshops, and really help these groups – meet them where they are, and help them grow to the next level. So I know I'm really excited about that.
Nicole Darden Creston:
That sounds like something that is not present and hasn't - at least of late - been present in Central Florida's arts community. This is kind of a new concept for Central Florida, right?
Alauna Friskics:
Yeah, it is a new concept. And what we're finding when we listened to the artists, and we really started to pull this together, one thing we found that we weren't expecting is there's this synergy that's starting to form from the different groups. So take an early-career group, someone who has never produced a show before, and has a lot of eagerness to be a part of what we're doing…taking someone like that and helping to mold them by pairing and partnering them with a veteran producer who's been in this community for decades, and really starting to see how they can work together. So that, I think, is one of the most unique things that is organically starting to happen already, even before we open the space. And then being able to offer opportunities for all types of artists, I think is something totally unique. We're looking at offering rehearsal spaces, offering workshops, offering co-working opportunities during the day for artists, just really making it almost like a community center for artists to be able to come together and just create art in the ways that can really grow our community.
Nicole Darden Creston:
That's wonderful. So the very first show is going to start tonight, it's the Fringe mini-fest. Tell me how the mini-fest is different than the Orlando Fringe Festival, the whole big one that happens in May every year that people may be familiar with.
Alauna Friskics:
Yeah, Winter Mini-Fest is designed to showcase popular shows from past Fringe Festivals, as well as new works from past Fringe performers. So whereas Fringe in May is a lottery-based festival, where it's all up to chance as to who gets in the festival, Winter Mini-Fest is curated. We actually choose the performances, so what you get is really the best of the best and shows the that we feel need to be seen or re-seen.
Nicole Darden Creston:
Which performances are generating the most buzz so far?
Alauna Friskics:
Ooh, there are quite a few that people are really excited about. Winter Mini-Fest is an international festival. We've got shows like Paco Earhart's "Worst German Ever" from Germany, and Canadian John Patterson from Vancouver, British Columbia, with a show called "How I Met My Mother," and there's a show that I loved at a past Fringe called "RoseGold." It's a one-woman horror/suspense show from Portland, Oregon. Then there are local favorites, too, that people are really getting excited about – shows like "Sing Out Proud," "Coffee and Cedar," and "VarieTease," which is a local favorite. All in all, we have 19 different shows within the four days, and many of those have multiple performances. The entire festival is going to be downtown in Artspace, too, which is really exciting. So it'll be our first time launching expanded programming in this new space.
Nicole Darden Creston:
Wow. How do you feel about that?
Alauna Friskics:
I had the honor of building and growing Garden Theater (in Winter Garden) many years ago. And I never thought I would have a second chance to build another theater. I'm just completely humbled and really, really excited to personally be able to offer this to the community. I am really emotional. I think as we're coming into this weekend, just because this has been a long time in the coming, and I see it. I see the potential of what this can do and how this can change and evolve. For each individual artist or each company, for the entire arts landscape and also for downtown Orlando. And we're just very thankful to our downtown Orlando partners. They've just been so supportive to make this happen and we're just really excited for the city of Orlando and to be able to offer this to the arts community and to the audiences.