Stories from WMFE and the Florida Public Radio Emergency Network (FPREN) which delivers timely public safety information and emergency messaging to 13 public radio stations across the state of Florida.
At Duke's Hurricane Idalia staging area south of The Villages, hundreds of lineworkers are ready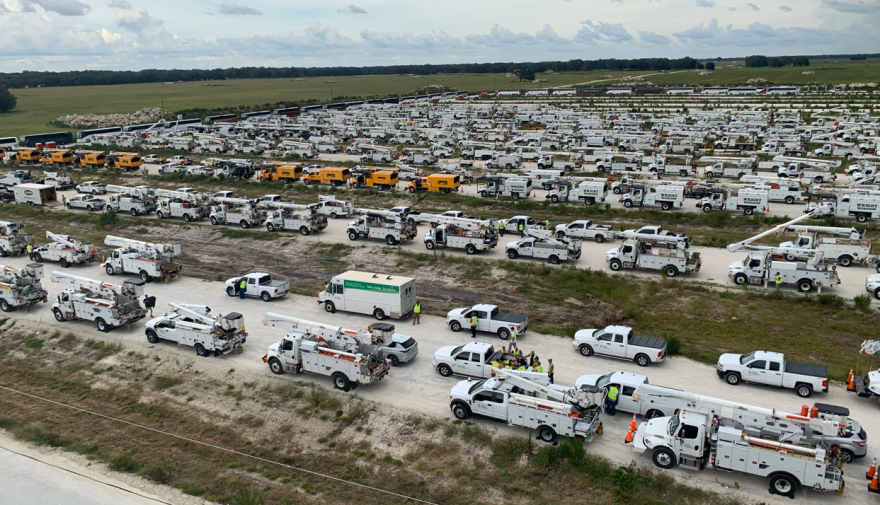 Thousands of lineworkers — from utlities around Florida and other states — are preparing for a busy day restoring power after Hurricane Idalia.
For Duke Energy, the bigger of its two staging areas is in Sumter County. The other one is at Tropicana Field in St. Petersburg.
In a field some miles south of The Villages on Tuesday, Duke was lining up a thousand bucket trucks, corporate and contractor crews from Florida, the Southeast and the Midwest.
Duke spokesman Ben Williamson said Tuesday afternoon that they're ready to go. He said he restoration effort will unfold using certain priorities after the storm.
First, there's public safety, like downed power lines; then medical and public safety facilities; then infrastructure, like large transmission lines and substations that affect a lot of customers; and finally, individual distribution lines.
"So we ask people to be patient, know that we're out there working," he said. "You may not see them on your street. But know that we've got all these crews by the end of day one about 1,000 trucks here we got about 5,000 resources across the state. As soon as it's safe to do so we will be out trying to get the lights back on."
Anthony Brooks, an operations supervisor from Ohio, said he got the call for Idalia on Sunday and put out the word for volunteers from Duke's Ohio and Kentucky region.
They stayed Monday night in Valdosta, Georgia.
"We have some buses that are going to take us for our hotel arrangements this evening," Brooks said. "We'll make sure we get the guys fed and get them down to a good night's rest and let the storm pass. And then come tomorrow morning we'll be ready to get out there and get to work."
In 21 years with Duke, Brooks estimated he's helped restore power after 15 Florida hurricanes.