Gulf Coast eyeing potential storm; officials advise residents to take precautions now
A disturbance in the Caribbean Sea that will be entering the Gulf of Mexico is prompting government officials to advise residents of the potential storm impacts they could face in the following days.
The potential tropical system over the northwestern Caribbean Sea is producing thunderstorm activity, and environmental conditions are favorable for development. The National Hurricane Center says a tropical depression is likely to form late this weekend or early next week and move north.
On Thursday, Florida Gov. Ron DeSantis directed the Florida Emergency Management team to prepare for a possible tropical event.
Levy County Emergency Management Director John MacDonald recommends securing loose items on the property that may blow around and have supplies for at least seven days on hand.
"Listen to your local media markets for information, not national media," MacDonald said.
Levy County is currently monitoring the situation and will take more protective actions as the system becomes more defined.
Lee County is reminding residents that after Hurricane Ian, some areas are more susceptible to impacts. The county is planning to help as necessary and encourages its residents to take time now to prepare themselves and their families.
Roadside ditches and swales are designed to drain but could hold some water during significant rain events. Lee County Natural Resources reports that the county's water levels remain lower than average, due to the lack of rainfall this season, which should help with the anticipated weather event.
Hillsborough County Operations Section Chief Katja Miller advises that storms can develop rapidly with the warm water temperature and low wind shear in the Gulf of Mexico. Although meteorologists at the National Hurricane Center say that there's a high chance this disturbance could develop into a tropical depression or a named storm, this outlook doesn't provide clues regarding direct impacts. Details on intensity, timing and impacts will become more clear this weekend and early next week.
"Right now, the weekend is the perfect time for people to take the opportunity to button up their properties," Miller said. "Make sure you know nothing is loose and flying around and that emergency plans are ready to go."
This weekend starts the second state disaster preparedness tax holiday. Residents are able to purchase qualifying supplies for emergency kits tax-free.
The Florida Division of Emergency Management advises Floridians to have a disaster plan in place and continue to monitor local weather alerts.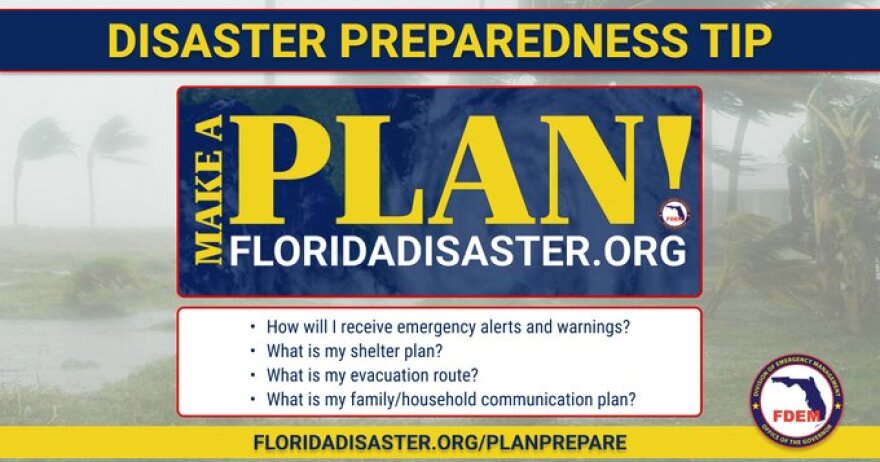 "Taking the time to make that disaster plan now and building your kits is going to relieve a lot of pressure and stress on folks and hopefully lead to better decision-making," Miller said.
Peak hurricane season runs from mid-August to late October. Stay up to date with local weather alerts with the Florida Storms app.